Design for

Clean water




and sanitation


In 2030

Since 2016 you can join a jam every September to create sustainable impact for the Global Goals! In 2019, 90+ cities participated connecting over 5000 change-makers. This year, we'll be jamming from 18-20 September. Join us!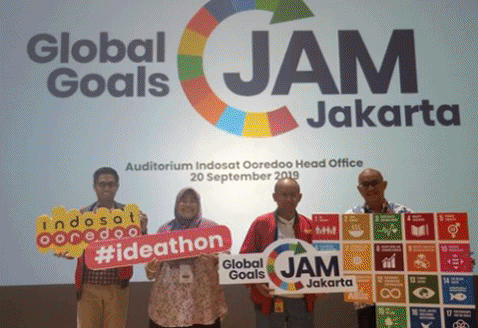 Changes due to COVID-19
We realise that due to the current situation, for many of you it is unclear how it will be possible to host a community event that welcomes many people in the same physical space for multiple days.
Since September is still somewhat in the future, and local situations differ across the globe, we of course hope that it will be possible to Jam locally, just as we did last year.
However, we are also realistic that for some locations this will not be the case, and chose this as the perfect occasion to further support the online dimension of the Jam.
In addition to Slack, which you can of course as a local organiser also use to connect online with your local community, we have partnered up with Miro and extended the Jamkit with digital templates. These are availabile in the Full Jamkit for Organisers. This will make it easier for your teams to work and collaborate online. At the same time this also strengthens the global connection, as it becomes easier to see what we are working on from distance!
We hope that this addition supports organisers who want or need to take their event online, while also offering other locations that are able, to host offline, locally, and celebrate social closeness once again when this becomes possible.
Let's #design2030now!
Jakarta
Online
2020/10/01 20:00 —
2020/12/11 00:00
Jl. Budi Kemulyaan III No.21, RT.2/RW.3, Gambir, Kecamatan Gambir, Kota Jakarta Pusat, Daerah Khusus Ibukota Jakarta 10110, Indonesia
Global Goals Jam – Perth
Murdoch x Spacecubed
2020/11/28 10:00 —
2020/11/29 18:00
32 St Georges Terrace, Perth WA 6000, Australia
Local Organisers
The Global Goals Jam is part of Design Across Cultures, a global chain of innovation. We are present in all continents. Curious to know who is organising a Jam this year? Scroll down to check the map. In the meantime, take a look to see if you got what it takes to become an organiser yourself!
Together with UNDP
The Sustainable Development Goals (SDGs), otherwise known as the Global Goals, are a universal call to action to end poverty, protect the planet and ensure that all people enjoy peace and prosperity.
In 2016, United Nations Development Programme approached Digital Society School to create a collaboration that connected the design community with the Sustainable Development Goals. Using our expertise in Design Methods and international, cross cultural collaboration, we designed a process that empowers people to create direct impact for the global goals, solving local challenges relevant to their own context.
Our partnership with Digital Society School in the Global Goals Jam facilitates a way to take real action. People all over the world can see and learn from each other's work, as well as create impact.
Contact Us
Want to host a Jam? Check out what you need. Have a question about something else? Join our online Slack community and ask the global network!